LUXAPOOL® POOL PAINTS ARE EXCELLENT FOR COUNCIL POOL RESURFACING PROJECTS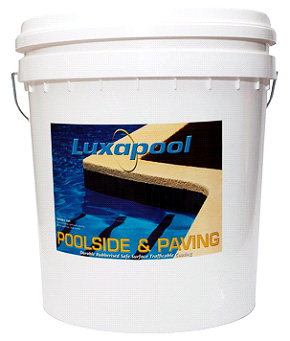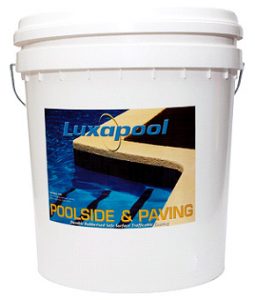 LUXAPOOL will attend the 2016 Country Pool Manager's Conference to be held in Forbes this year, for our second year running. We look forward to meeting and chatting with everyone who is travelling from near and far to attend.
The largest selling pool paint in Australia and NZ, LUXAPOOL offers a range of high solids, premium quality coatings for commercial and domestic pool resurfacing, and is available in a large range of designer colours including the popular Pacific Blue and Adriatic colours.
LUXAPOOL also offers a durable Poolside & Paving product for pool surrounds. This product is attractive, easy to apply and provides a safe, durable surface for most pebble, concrete and paved entertaining areas. Poolside and Paving is suitable for the concrete pathways surrounding council pools.
TWO GREAT LUXAPOOL® POOL PAINT FORMULATIONS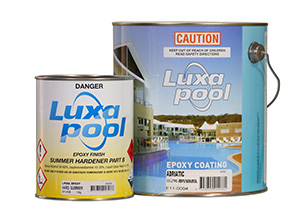 LUXAPOOL's No.1 selling Epoxy pool paint has been developed for application over existing Epoxy, old and new cement render, fibreglass, marble sheen and even pebblecrete. This product is well suited to commercial and Council pools, and has been used on a number of large commercial projects including the Sydney Aquatic Centre training pool.
Once cured, LUXAPOOL Epoxy provides a smooth, hard surface, which is easy to maintain and long lasting.  LUXAPOOL's Epoxy pool paint features a durable finish with improved resistance to chalking and the effects of salt-water and chlorinated chemicals.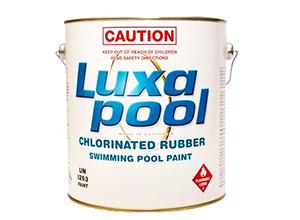 LUXAPOOL's Chlorinated Rubber pool paint has been formulated for use over sound previously painted chlorinated rubber coated surfaces. This product is well suited to council pools (including ocean pools) which have previously been painted with chlorinated rubber pool paint. LUXAPOOL's Chlorinated Rubber can be applied with a brush or roller. Pool projects completed with LUXAPOOL Chlorinated rubber pool paint include Narooma Aquatic Centre Olympic pool, Dee Why Ocean Pool, Queenscliff Ocean Pool as well as many more.
RESURFACING COUNCIL & COMMERCIAL POOLS
APPLICATOR: JOHN TOWNSEND
LUXAPOOL only recommends the best pool paint Applicators. John Townsend of www.poolpainters.com.au is a renowned pool painter located in Sydney. Many Council pool managers and commercial swimming pool operators throughout Sydney and regional NSW have entrusted John with their pool resurfacing, renovation and refurbishment projects. John only uses and recommends LUXAPOOL pool paint due to its consistent quality, ease of application and outstanding results. He has been painting commercial swimming pools, indoor and outdoor, for over 30 years.
Some of John Townsend's projects include:
Sydney Aquatic Centre training pool at Homebush
Manly, Kuringai, Hornsby and Moruya Council pools
Large school pool projects including Cranbrook School, Waverly College, Wenona School for Girls, King Coppal School, and Campbelltown school for disabled children.
MORUYA POOL PROJECT BY JOHN TOWNSEND OF 'POOL PAINTERS'
APPLICATOR: DENNIS CRONBERGER
Dennis Cronberger of DC's High Pressure Cleaning Service is another reputable pool paint Applicator based in the Tamworth area. Dennis has managed a number of commercial and domestic pool painting projects in regional areas using LUXAPOOL pool coatings. Dennis resurfaces pools with both LUXAPOOL's Epoxy and LUXAPOOL Chlorinated Rubber products to deliver an outstanding finish.
MURRURUNDI DOMESTIC POOL PROJECT BY DENNIS CRONBERGER OF DC'S HIGH PRESSURE CLEANING
WHERE TO BUY LUXAPOOL® PRODUCTS
For further information on our LUXAPOOL pool paints call Colormaker Industries on 02 9939 7977, or visit our LUXAPOOL Stockists page to find your closest supplier.