Why LUXAPOOL® Epoxy is the best value pool painting system
LUXAPOOL Epoxy delivers the most luxurious, longest lasting, smooth, hard, durable gloss finish which is resistant to abrasion and simple to maintain.
LUXAPOOL Epoxy is a long lasting system. Two coats of LUXAPOOL Epoxy, when properly applied, has a life expectancy of 8-10 years; 3 coats and you're looking at 12-15 years. So for the long haul, you'll spend less time, money and labour with repaints and more time enjoying the pool.
LUXAPOOL Epoxy is available in a broad range of designer colours, so when you decide to change the décor of the house or pool surrounds, then you can change the colour of the pool interior to suit.
LUXAPOOL Epoxy is versatile and can be applied over the widest range of substrates including cement render, marble sheen (quartzon), fibreglass, pebblecrete or previously painted epoxy.
LUXAPOOL Epoxy is high in volume solids with more solids in every kit, so you get a thicker film in fewer coats. The thicker film means a longer service life; fewer coats means the job will be finished in fewer days.
LUXAPOOL Epoxy is Australian, with Australian technology developed and fine-tuned over many years of laboratory research and a successful track record in the field of 45 years surfacing and resurfacing pools right across the country under the harsh Australian sun.
LUXAPOOL Epoxy contributes to the hygiene of the pool, offering outstanding resistance to infestations of "black-spot" that can blight other surfaces.
LUXAPOOL Epoxy has improved resistance to chalking, to the effects of salt-water and to chlorinated chemicals, is algae controlled and safe for use with fish and mammals. The high gloss finish retards early chalking and significantly increases the life expectancy of the coating.
LUXAPOOL Epoxy's leading pool coating technology keeps water cooler in summer. This technology extends the life expectancy of the coating by reducing IR radiation absorption, thus reducing evaporation and helping to save water. Cooler water also slows chemical burn off, particularly in summer, so lower doses last longer.
LUXAPOOL Epoxy has great application properties, making it a breeze to apply with brush and roller plus excellent flow and levelling properties that yield a smooth, glossy finish.
LUXAPOOL Epoxy can be applied by expert pool paint Applicators or by DIY renovators following our industry leading Luxapool Application Guides.
LUXAPOOL Epoxy is available online, or from an established stockist in every state and territory capital, so you can get great advice from an experienced local who knows our product and your climate.
What Colour Should I Paint My Swimming Pool?
Click here to check out our gallery of painted pools for the latest colour stories.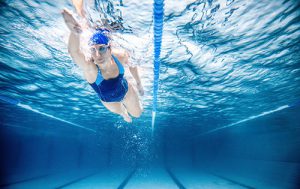 Top 5 Tips to Painting Your Pool
Ensure you have good weather (you will need at least 5 fine days in a row to paint your pool)
Check if the pool paint is compatible with your current pool surface. There are two types of pool paint: Epoxy pool paint or Chlorinated Rubber pool paint. You need to select the correct type for your pool surface. Our Pool Paint Calculator can assist with this.
Select the right pool paint colour for your pool (note: pool paint colours look different when immersed in water or if the pool is empty; and can vary according to the weather, the time of day, pool lighting and surrounds). Best practice is to check colour panels under water before emptying the pool.
Preparation of the pool surface is vital to a good result (ie: patching any cracks, abrading the surface and applying the appropriate Primer if required)
Once you have painted your swimming pool, leave the pool surface to cure for at least 7-10 days (in warm weather) before refilling your pool.
For Painting Guides for particular surfaces see our pool painting guides.