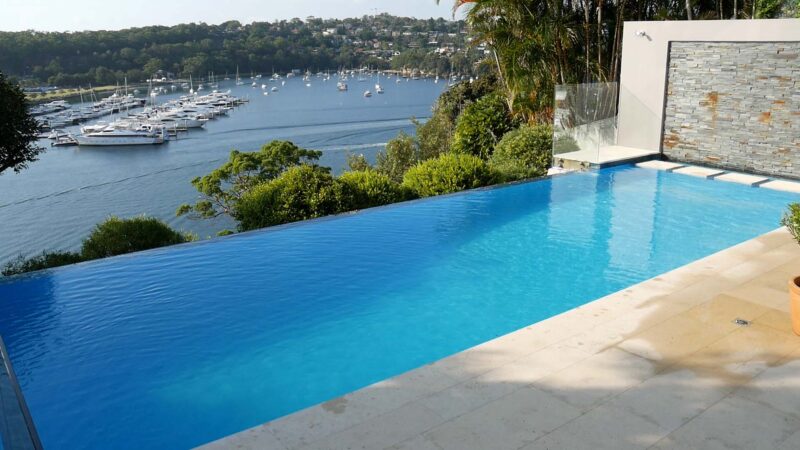 Updating your pool area can transform your outdoor living space into paradise, ready for entertaining and relaxation.
Pool Interior
Resurfacing your swimming pool with an epoxy paint will deliver a smooth, hard, glossy surface, which is less susceptible to the growth of algae and easier to clean than other pool surfaces such as pebblecrete, tiles or fibreglass. If you can see signs of deterioration in the pool interior such as peeling paint, worn patches, blisters, cracks, black spot, stains or muddy water it is definitely time to resurface.
Pool Colours
Pool paint allows great flexibility in colour choice to complement the pool surroundings, outdoor living decor and landscape setting.  Changing the colour of the pool interior delivers a big impact on the overall space. The extensive range available in pool paint allows for the perfect colour selection to bring the area in-line with your particular style.
Indoor/outdoor integration is a current design trend in which the indoor style, materials and colours are tied in with the outdoor design, providing continuity throughout your property, to make indoor and outdoor spaces work together seamlessly.
Pool Surrounds
Textured non-slip paint is suitable to achieve a modern look on pool coping and surrounds. This type of paint can cover surface imperfections to deliver a clean finish while allowing the desired colour to be achieved in line with your new design.
LUXAPOOL swimming pool paint is available at Colormaker Industries Brookvale, visit the store for useful information on painting your pool, pool paint colour guides and ideas on how you can refresh your pool area.
With swimming season just around the corner, it is a great time to undertake your poolscape project.