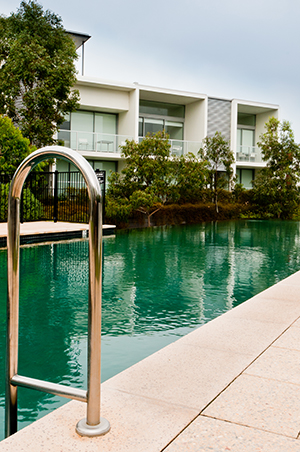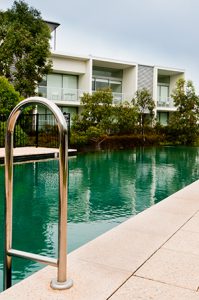 Summer is on its way and with it the chance to get outdoors, enjoy the glorious sunshine and invite friends around for BBQs by the pool.
A coat of paint can make all the difference to the look of your home and its no different for the pool area. Restoring your pool interior and surrounds can take your backyard from looking tired and neglected, to a sparkling resort-style sanctuary where you want to spend hours of quality time with your family and friends.
Pool Colour Trends
The latest trends in swimming pool colours are finishes that will give your pool area a natural look. Darker pool colours like LUXAPOOL® Deep Ocean and Slate help the water to reflect the natural surrounds. Monochrome colours are also right on trend with white pool interiors and black surrounds. Pairing pool colours with natural landscaping like sandstone and greenery give the area a luxurious resort feel.
Pool Surrounds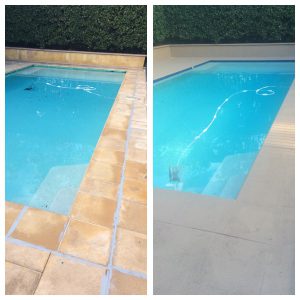 Refreshing your pool surrounds will make a big difference to the look of your pool area. This can be as easy as resurfacing the existing coping and paving to create a fresh look in the latest colour. Grey tones such as LUXAPOOL's Light Grey Poolside & Paving paint are on trend right now. A natural colour, such as LUXAPOOL's Riversand, gives a timeless and classic look.
Another fantastic advantage of LUXAPOOL® Poolside & Paving paint is the non-slip effect that it gives as a result of the textured finish. Wet areas around the pool will no longer be slippery when children are running around the pool. Poolside & Paving is a water-based, rubberised, non-slip coating system which is suitable for pool surrounds, decks, patios, balconies, stairs, walkways and more.
Pool Interiors
LUXAPOOL® Epoxy is Australia's number one pool paint and has been perfected over 40 years. It is suitable for most pool surfaces including concrete, marblesheen (quartzon), fibreglass, previously painted epoxies and even pebblecrete. Available in 25 beautiful designer colours. A life of 8-10 years can be achieved with just 2 coats by following the detailed application guides.
Click here to see the full colour range